Our News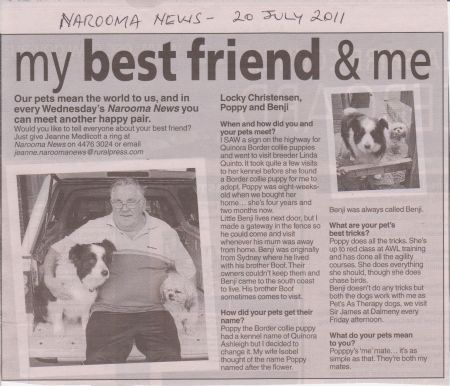 April 2013
Border Collie Club of NSW speciality
Quinora Dare to Excel (Jlo), Best baby Puppy in Show and Quinora on the Finish Line (Race) Best Puppy in Show and
Quinora So you Think (Chai) out of coat coming third in a very good lineup.
Feb 2013
Quinora Soul Perforance (Blair) RUBIS at Bega Valley kennel club.
June 2011
Blair and Chai have both been picking up points the last couple of weeks and Chai a MInor in Show!
April 2011
Litters page updated
Skye, Gibbs & Kju's pages updated
February 2011
Chai wins Baby in Group 3 days in a row at Bega Valley Kennel Club and Baby in Show on Sunday!
November 10
Litters page updated
Other dogs and Ziva's pages updated
May 10
Pages added for Gibbs, Cole, Tyme, Blair & Kju.
Litter Page updated.
April 10
Molly & Bonnie did us proud at the 2010 Sydney Royal Easter Show in Flyball with:
Molly's team 1st in 2nd Division
Bonnie' team 1st in 3rd Division
Molly's team also won the Challenge Trophy which is when all the first placed teams in all divisions ran off under handicapped timing.
March 10
To celebrate my retirement from working I treated myself to a trip to Crufts with my good friend Teresa Bailey from Teyha Border Collies
Dec 09
All 3 litters were successfully whelped! All puppies have now gone to their homes and we wish them lots of success!
Nov 09
Magee titles with a 25 point Best of Breed and Runner Up Best in Group under breed specialist Lynn Harrison! Magee was handled by my grandson Daniel to the win!
Sep 09
Huge congratulations to Molly and Bonnie who both qualified for a Flyball Team at the World Dog Games at Acer arena! The event will be held the 31st Oct & 12 Nov and will be made into a 1 hour TV show so keep an eye out for our stars!

Daniel & Magee win Best in Group from the puppy class in Brisbane!
May 09
Magee wins another 5 Minor in Groups over the last 2 weeks making it 10 classes in group at 8 months of age!
April09
Quinora Blue Skye Spirit FMCh "Molly" owned by Debbie & Mal Ford competed at the 2009 Sydney Royal & won 1st in Novice Agility, Novice Jumpers & Novice Gamblers! Wow what an amazing effort guys, we are very proud!


Lorn wins Opposite Minor in Show at the Border Collie Club speciality in Sydney & Minor in Group at Canberra on the 24th April.


Quinora has a new Australian Champion! Congratualtions to "Tahra" now Australian Champion Quinora Just A Rumor and a big thank you to Jacqui Cant!


New puppies at Quinora see our litter page for details.
Mar09
We had a very successful 2nd Border Collie National!
Lorn 2nd Minor Bitch - 13 entered-youngest in class

Tru 7th Intermediate Bitch - 30 entered

Caton - shortlisted in big Intermediate Dog class
Jan/Feb09
Mar08
Off to Crufts and Europe for most of the month, but made it back in time to watch borders at the Sydney Royal and to see Peri come 2nd and Tru 3rd in the Puppy class! Peri backed this up by placing 2nd at the BCC of NSW Speciality
Feb08
Caton wins dog challenger & Inter in Group at

Tru wins Puppy in Group the 8th & 10th Feb at Bega Valley Kennel & Obed Club
Jan08
Nov07
More Quinora Dogs page added. Peri wins reserve challenge her first weekend with the big girls in Minor!
Oct07
October has been an eventful month, both Peri & Tru have had success in the ring with multi Baby in Groups and Tru recently won Baby in Show at Sthn Dist Border Show under breed specialist Lauren Somers.
Litters page has been updated.
Sep07
We received wonderful news - Caton's hips are 0:0, elbows 0:0!
Aug07
July07
June07
We have a new Australian Champion! Myia gained her title with a lovely 20 point Best of Breed. She is the 4th Australia Champion for her sire Fraser. 4 week old photo's of Sheas puppies added 22Jun07.
May07
April07
Logan & Shea are both pregnant see our litters page for details. Quinn got her hipscore back 0:1 elbow 0:0 so a great result!
Caton wins Opposite Puppy in Show Border Collie of NSW April show under breed specialist Noel Kay.
Mar07
Jan07
Our new home on the web is launched, hope you enjoy our site site!
Contact Details
Linda Quinto
Cobargo, NSW, Australia
Phone : 0418936450
Email :
[email protected]